While I was out doing errands and some shopping today, Christmas tempted me from several angles!
After checking out the Barnes & Noble at Bells Ferry, I walked down a couple of stores to CD Warehouse, which sells used CDs and DVDs. I found two nice Christmas CDs: "Christmas at St. Thomas, New York," a collection of carols sung by the church choir, and Celtic Woman's "A Christmas Celebration." I've already listened to "Thomas"—very nice. Some uncommon carols like the "Sussex Carol," and also a pretty song called "Sir Christèmas."
I stopped at Home Goods due to the recommendations of the ladies (and gents) on "Christmas to the Max" and saw many cute things, including a Scotty-dog teapot, but I really had no place for it. I did buy a small book about a Santa Claus figurine collection that was marked down and also an unusual Christmas snow-globe, pictured below. You can't tell very well, since the globe has picked up the reflections of the table and everything behind it, but the base is bright silver, like the old-fashioned chrome bumper of a car. I got it on a discount because, as you can see, the two white nicks in the bottom of the base at right. James says we may be able to fix it with a silver leaf pen; otherwise, maybe I can stick a small holly bit to cover the area. It is absolutely beautiful, though, and very striking.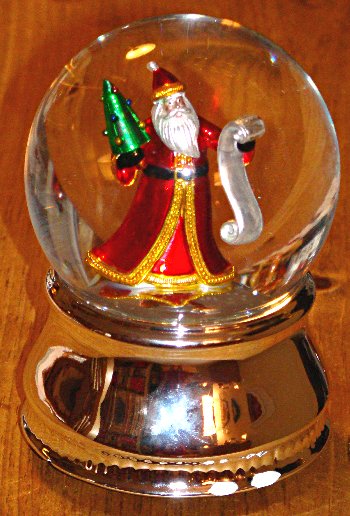 When I walked into Michaels in Acworth, the fall arch was being replaced by an evergreen arch, and Christmas was everywhere. They had several small trees set up with different styles of displays. One was done in blue snowflake and other blue ornaments with trim of peacock feathers, and a few feet away was a small wreath completely done of peacock feathers. Very beautiful!