This is my little Christmas wall display from "Country Pickins." They come every year to the Yellow Daisy Festival from Kansas. I haven't seen them in any other Georgia craft show. I think I would be in trouble if I did. They're not online, which makes it safer, too. :-)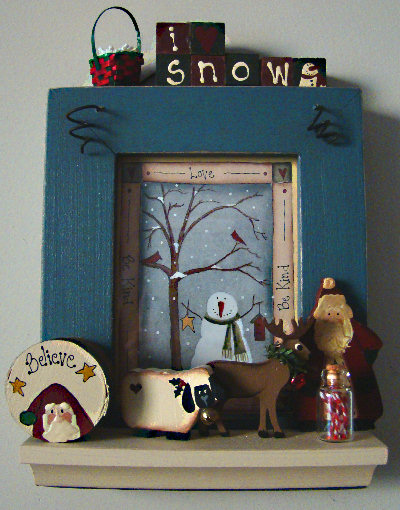 They make several different sizes of these display shelves (to give you an idea of the size of the little things upon the shelf and on top, the width of this unit is a little less than 5 inches) and there are varying themes: winter, Christmas, fall, spring, summer, seashore, quilting, kitchen, apples, and more I can't remember. Some are portrait-sized, some are landscape. They also have little shelves, and then larger displays that look like little hutches or stepback cabinets. The little display shelves like this one are less than $10, but when you start adding all the little things to them, it starts getting expensive. That's why I bought the wintry/Christmasy combination background. Once winter comes I will swap out the Santa/Christmas things with snowmen and winter things and it will do dual duty.
I have a fall one that stays out most of the year, and a little mostly apple-based one that stays in the kitchen (where this is now, since my feather tree would block it if it was in the usual place).