...there were parcels and presents!
We went out shopping at noon for needed groceries, but mostly ingredients for the item we're bringing to Bill and Caran's New Year's Eve party (a cheese bake recipe James picked up at Bulloch Hall) and the supplies for our party on Saturday. We came out with honey barbecue chicken wings, mini egg rolls, chicken taquitoes, Bagel Bites, cocktail franks, crackers, cheese squares, and baked Tostitoes to go with the salsa. We also have chocolates, M&Ms, potato chips, Goldfish, chocolate chip cookies, crackers, and cheese spreads, and James is going to make another cheese bake.
Plus we're scheduled to have an overnight guest: Shari's going to drive in from Birmingham! Yay!
We stopped at Borders on the way home because I was looking for a mini calendar. I keep one next to my computer that tells what gets paid on each of our paydays. I found a small calendar, but not a mini. I either have to find one or rearrange the papers next to my desk, because the small one doesn't fall well.
I nearly fainted when we got to the magazine stand: this is the first time all year I've found
Yankee
before the month it's supposed to be for!
When we got home, we carted all those things upstairs. Willow needed to go out and I wanted to check the mail, so we killed about four birds with one stone. Candy asked for photos of James and I and our bicycles, so here they are, in 65°F weather with Christmas in the background!
LOL. We don't appear to have Willow's attention.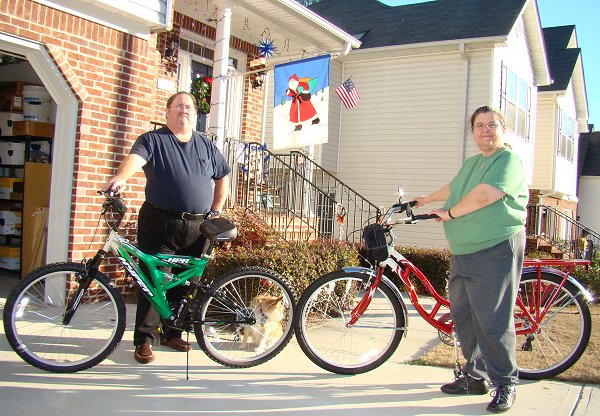 Not here, either!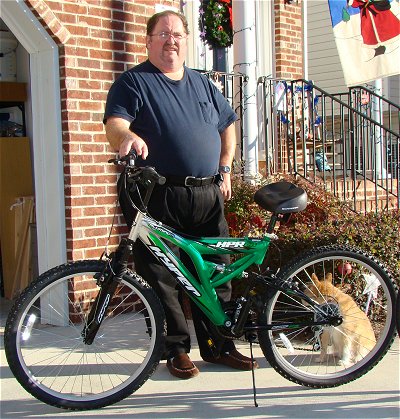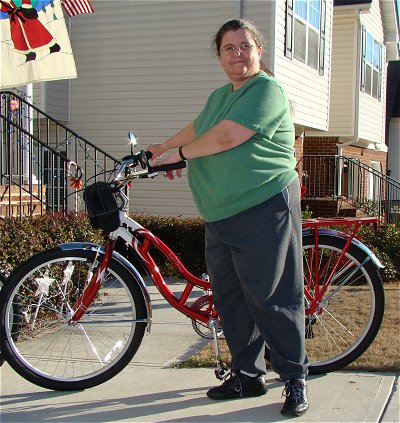 Oh, and here's Willow and "Woody"!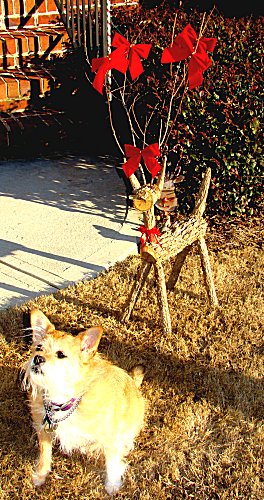 The mailbox was a veritable cornucopia of goodies. We had a card from James' friend J.P., my book had come from Amazon Marketplace (this is
American Road
, which is about a transcontinental automobile trip in 1919 which coincided with the building of the Lincoln Highway), and my package was finally here from Amazon.co.uk. I had taken the opportunity to order in Region 2 several Disney movies that Disney USA had not bothered to release widescreen in Region 1:
That Darn Cat, Big Red,
and
The Moon Spinners
.
I checked these to see if they were okay, but sat down to watch the fourth DVD, which was
James Herriot's Yorkshire
, in which Christopher Timothy (James in the television series
All Creatures Great and Small
) tours the sites made famous by Herriot in his books. The real James, Alf Wight, who was very ill at the time, appears for a few minutes and one can hear him narrating a couple of passages from his books in his Scots burr. The scenery is so lovely; Timothy and the film travel from Thirsk, Herriot's home, to the moors and Askrigg, where the television series was mainly filmed, and finally out to the seashore of Robin Hood's Bay and Scarborough.